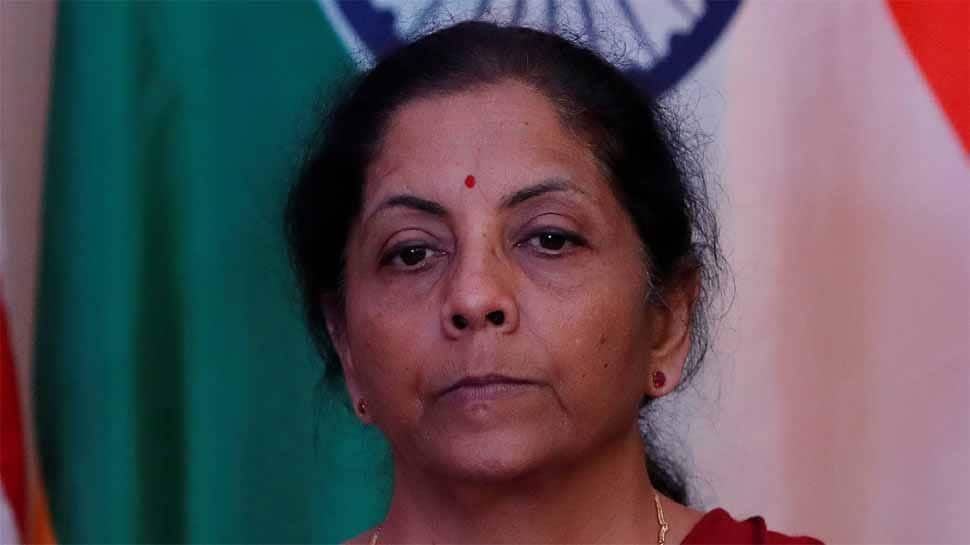 New Delhi: Finance Minister Nirmala Sitharaman is currently adressing a press conference during which the FM is going to announce the next set of stimulus package to boost the coronavirus-hit economy.
Adressing the press conference, the FM said that she would announce a few new measures that can be called the next step in the series of stimulus announcements.
"I would like to announce a few new measures in the series of stimulus announcements we have been doing…Quite a few indicators showing a distinct recovery in the economy," the FM said.
Sitharaman, citing RBI said that the central bank has predicted a strong likelihood of the Indian economy returning to positive growth in Q3:2020-21, ahead by a quarter of the earlier forecast.
The finance minister last month had announced a slew of measures to spur demand and ramp-up capital expenditure. This was the third stimulus package since the outbreak of the COVID-19 pandemic.
The government had announced a Rs 1.70 lakh crore Pradhan Mantri Garib Kalyan Yojana (PMGKP) in March to protect the poor and vulnerable sections from the impact of COVID-19 crisis.
It was followed by the Aatmanirbhar Bharat Abhiyan package of Rs 20.97 lakh crore in May, largely focussed on supply-side measures and long-term reforms.
#mute
FM to make 12 announcements regarding the fresh stimulus. Here are the highlights of the Atmanirbhar Bharat 3.0 fresh stimulus
1. FM announces Atmanirbhar Bharat Rozgar Yojana
– Aatmanirbhar Bharat Rozgar Yojana, operational during period from October 1, 2020 to June 2021 to incentivise creation of new employment opportunities during COVID recovery phase.
Emergency credit line guarantee scheme extended till March 31 2021.
2.  Emergency credit line guarantee scheme 2.0
Launch of Emergency credit line guarantee scheme 2.0 for guaranteed credit to 26 stressed sectors. Tenor of additional credit under ECLGS 2.0 to be 5 years, including 1 year of moratorium on principal repayment.
3.  Production linked incentive scheme
approval to introduce the Production-Linked Incentive (PLI) Scheme in 10 key sectors for Enhancing India's Manufacturing Capabilities and Enhancing Exports.
4. PM Awaas Yojana (PMAY) – Urban
Rs 18,000 crores will be provided over the Budged Estimates for 2020-21 for PM Awaas Yojana (PMAY) – Urban through additional allocation and Extra Budgetary Resources.
This is over and above Rs 8,000 crores already this year.
5. Support for Construction and Infrastructure – Relaxation of Earnest Money Deposit (EMD) and Performance Security on Government Tenders
-Performance security on contracts to be reduced to 3 percent instead of 5 to 10 percent
-EMD will not be required for tenders and will be replaced by Bid Security Declatation
– Relaxations will be given December 31, 2021.
6. Demand booster for Residential Real Estate Income Tax relief for Developers and Home buyers
-Decided to increase the differential from 10 percent to 20 percent for the period from the date of the announcements to June 20, 2021 for only primary sale of residential units of value upto Rs 2 crore.
– Consequential relief upto 20 percent shall be allowed to buyers of these units under section 56(2)x of the IT Act for the said period.
7. Rs 1.1 lakh crore for platform for Infra Debt Financing – Rs 6,000 crores equity infusion in NIIF Debt platform
– Government will invest Rs 6000 as equity
– Government will by 2025 provide infra project financing of Rs 110,000 crores
8. Support for Agriculture – Rs 65,000 crore for subsidised fertilisers
9. Boost for the rural employment -Enhanced outlays under PM Garib Kalyan Rozgar Yojana
– Rs 40,000 crore was additionally provided in AtmaNirbhar Bharat 1.0
– Further outlay of Rs 10,000 crore to be provided for PM Garib Kalyan Rozgar Yojana in the current financial year