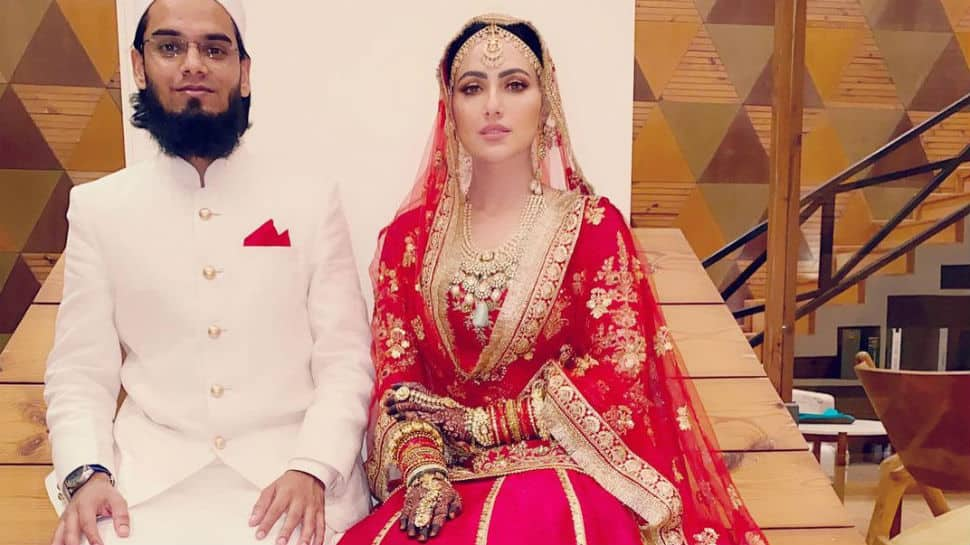 New Delhi: Actress Sana Khan's husband Anas Sayied has shared a romantic note for his wife and thanked her for coming into his life. With a picture of the newlyweds from the D-day, Anas wrote, "Aur tum apne rab ki kaun kaun si naimaton ko jhutlaoge (Which of your Lords blessings will you deny?) ALHUMDULILLAH. Thank you for being in my life and making it a beautiful journey. Thank you for all your love and support. Hope to spend an eternal bliss of a peaceful and joyous marriage with you. Always yours…. HAPPILY MARRIED."
Here's Anas' post for his wife Sana:
Sana Khan and Anas Sayied, who hails from Gujarat, married on November 20 in an intimate ceremony. 
Hours after the wedding, Sana introduced Anas on Instagram and wrote, "Loved each other for the sake of Allah. Married each other for the sake of Allah. May Allah keep us united in this duniya and reunite us in jannah… Which of the favours of your lord will you deny."
See pictures from their wedding here:
'Bigg Boss' fame Sana Khan, who has starred in films such as 'Halla Bol', 'Jai Ho' and 'Wajah Tum Ho', has quit the entertainment industry. She announced her decision on social media in October and said that she will spend life in the service of humanity and following the orders of her "creator".